Explore our security resources for the most up-to-date information to keep you safe online. Click any of the links below to jump to the section on this page:
Monthly Security Updates
Check back here each month for a new topic to help you stay up to date on general online financial security tips.
April 2022 Don't fall victim to these common scams.
March 2022 Protect Your Business
February 2022 Vishing and Smishing
January 2022 Disposing of Devices Safely
December 2021 Protect Yourself from Debit and Credit Card Fraud
November 2021 13 tips to safely shop online this holiday season
October 2021 It's Cybersecurity Awareness Month!
September 2021 Don't Keep Those Documents, Shred them Instead!
August 2021 Keep Your Devices Safe and Secure.
July 2021 Ransomware: Protecting Yourself Against Cybercriminals
June 2021 Security Tips While Traveling
May 2021 Using Your Credit Card vs. Debit Card
Identity Theft
By understanding exactly what identity theft is, how it happens, and how it affects you, you will be better able to prevent and, if necessary, report identity theft.
In general, identity theft is more extensive than fraud, which is usually limited to an isolated attempt to steal money from an existing account. Fraud and identity theft can be easily confused so we recommend that you review not only this section, but also the sections on Fake Emails and WebSites and Fraudulent Pop-up Windows, so you can confirm that you are addressing the appropriate issue.
What is identity theft?
Identity theft occurs when someone illegally obtains your personal information – such as your Social Security number, bank account number, or other identification – and uses it repeatedly to open new accounts or initiate transactions in your name. For example, someone might do a combination of the following: open new credit cards, open new bank accounts, forge checks, and even apply for loans using your name and personal information. This can cause financial loss and damage your credit, which can lead to a lengthy resolution process.
Keep in mind however, that even if you think your security has been compromised, it does not automatically mean that you are a victim of identity theft. It might be an incorrect entry or an isolated incident of theft from your  account that is quickly resolved by calling Oak Bank at 608.441.6000.
How does identity theft happen?
Identity theft is portrayed as a high-tech crime affecting only those people who shop, communicate, or do business online. However, while thieves can obtain personal information via online methods, the majority of identity theft occurs offline. Stealing wallets and purses, intercepting or rerouting your mail, and rummaging through your garbage are some of the common tactics that thieves can use to obtain personal information. The good news is that the more information you have about identity theft the better your defense.
How can I help protect myself?
Do not open or respond to online solicitations for personal information. Oak Bank will never send email containing attachments, or require customers to send personal information via email or pop-up windows.
Carry only necessary identification. In particular, do not carry your Social Security card.
When a Social Security number is requested to sign up for a service, confirm that it is actually needed rather than some other identifier.
Make photocopies of all the information you carry daily and store them in a secure location like a safety deposit box.
Shred financial or personal documents before discarding. Most fraud and identity theft incidences happen as a result of mail and garbage theft.
Utilize paperless options and limit your receipt of paper statements by managing your accounts online with Oak Bank's iBank. Checking your balances online can help you regularly monitor your account activity and more quickly detect any fraudulent transactions.
Pay bills online with iBillPay. The fewer personal documents sent through the mail, the less chance there is for possible fraud.
Always put outgoing mail in a U.S. Postal Service mailbox, which is more secure than your home mailbox.
Collect your mail promptly each day.
Review additional steps you can take to help protect yourself from criminal attempts to obtain your personal information.
Oak Bank works constantly to help protect our customers from criminal activity. As an informed customer, you are a great ally in this effort. To learn more about identity theft, you can reference the following sites.
Prevent Fraud and Identity Theft
Learn how to detect and prevent illegal attempts to obtain your personal information.
Fake Emails and Websites
Identity Theft
How to Report Identity Theft
"Vishing" and "Smishing"
Prevention Checklist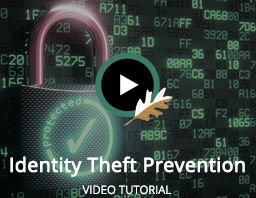 Knowledge is Key to Prevention
Identity theft continues to be one of the fastest growing crimes in the United States, and has ranked as one of the top consumer concerns for the past several years. The Federal Deposit Insurance Corporation (FDIC) has produced a multimedia presentation to help consumers protect themselves from identity theft. The presentation provides information on steps consumers should take to secure their computer and protect themselves from identity theft, as well as actions consumers should take if they become a victim of identity theft. Click on the link below to view the FDIC's 18 minute presentation. Or, scroll down this page to read similar information.
Don't Be an On-line Victim: How to Guard Against Internet Thieves and Electronic Scams

Macromedia Flash Player is required to view this presentation. The latest version of Macromedia Flash Player can be downloaded at www.macromedia.com/go/getflashplayer.
Reporting Identity Theft
Office of the Inspector General: http://www.ssa.gov/pubs/10064.html
Identity Theft Task Force www.idtheft.gov/
U. S. Postal Inspection Service: http://www.uspsoig.gov/
Financial Elder Abuse
Elder abuse is any international act that causes harm to someone aged 60 or older. The abuse often occurs at the hands of a caregiver or another trusted person. One common form is elder financial abuse or exploitation.
As a community bank, Oak Bank is committed to the financial safety of our clients. Our associates are trained to help identify elder abuse in the form of financial exploitation. Financial abuse can include fraud and/or the use of undue influence to gain control over an older person's money or property. We will assist out clients in rectifying financial abuse in any way we can.
Understanding and taking necessary safety precautions can help protect you or a loved one from falling victim to scams, fraud and other types of financial abuse.
Preventing Fraud or Scams
Oak Bank's mobile banking provides safe and secure resources to ensure your account is protected. Here is how to get started:
1. Regularly check your bank account through our mobile banking app to ensure there are no unfamiliar charges on your statements.
2. Enroll in iBillPay. With iBillPay, you can be confident your bills will get paid on time and you can catch any unauthorized transactions quickly. You can generate a payment analysis using the "Categories" feature to track your outgoing payments.
3. We strongly encourage you to sign up for eStatements. This can protect you from mail fraud because your statements will be emailed to you directly.
4. Sign up for Custom Alerts, where you can monitor you account activity, balances, deposit/withdrawal information and more.
Phone and Email Tips
1. Don't respond to any unknown messages or senders.
2. Delete emails that ask you to provide or confirm personal information.
3. Don't click on any links in an email, especially if you don't recognize the sender's email address.
4. Before calling a number listed in an email, do a quick Google search to see if the number matches the one listed on their website. Don't click a link in the email to check.
5. Do not give out personal information over the phone, unless you initiated the contact to a number you trust. Oak Bank will never make unsolicited telephone requests for your account information, password or other sensitive data.
Reporting Fraudulent Activity
If you have been a victim of fraud, or suspect fraudulent activity on your account, take the following action(s) immediately:
1. Contact Oak Bank and request to freeze your accounts and credit or debit cards.
2. Set up fraud alerts on all accounts or cards to get notified about unusual activity or transactions.
3. Contact your local law enforcement to report the fraudulent activity.
4. Run a credit check and request a copy of your credit report from one of these agencies:
● Equifax: 1.800.685.1111 or www.equifax.com
● Experian: 1.800.311.4769 or www.experian.com
● TransUnion: 1.800.916.8800 or www.transunion.com
If you have any questions, concerns or suspect you've been a victim of financial abuse, please call 608.441.6000.
Additional Resources:
The National Center of Elder Abuse (NCEA) provides resources and educational tips to prevent elder abuse and neglect. https://ncea.acl.gov/What-We-Do/Education.aspx
General Cybersecurity Best Practices
There are many ways you can protect yourself online and ensure security of all of your devices. With a growing number of smart devices and online activities, it's increasingly important to stay up to date on security best practices. Some of the measures you can take to improve your cybersecurity protection includes:
Keep Your Software and Hardware Updated: Regular updates are needed to keep up with any gaps in security. Consider installing any updates or patches to your software and hardware regularly.
Backup Your Data Regularly: Backing up your data ensures the protection in the instances of human error, viruses and other security events. Back up your data to locations separate from the device, such as the cloud.
Use Strong Passwords and Use a Password Management Tool: Use passwords that incorporate numbers, symbols and a combination of upper and lower case letters for maximum security on your devices and accounts. Consider using a password management tool to securely store all of your passwords.
Use Multi-Factor or Two-Factor Authentication Whenever Possible: With increased risk online, two-factor and multi-factor authentication adds an extra layer of security. Users will be asked to enter their user name, password and an extra piece of information to obtain access. This usually comes in the form of enter a code that has been text message or emailed to the users phone number or account.
Use Anti-Virus Protection Software: This software protects your devices from viruses, helps prevent phishing attacks, blocks spam, and aids in protection against identity theft. There are many options available; find the one that is right for you and your devices.
Protect Your Sensitive Personal Identifiable Information (PII): AA PII is any information, used alone or with other data, can relate back to an identifiable person. A common example of a PII is your Social Security Number. Review this document from the Department of Homeland Security for general rules to safeguard your PII.
Use Your Mobile Devices Securely: Keep your device safe by keeping your phone locked, setting secure passwords, and keeping the phone's software up to date. Be wary of downloads and delete unused apps. If you aren't using Bluetooth, turn the function off so others cannot track movements when within range.
Don't Use Public Wi-FI: Using public Wi-Fi runs the risk of sharing the connection with someone who could compromise your information. Do not use Wi-Fi connections that do not have privacy policies or are from locations you do not know or trust.
Review Your Online Accounts and Credit Reports Regularly for Changes: Reviewing regularly can help uncover discrepancies and potential identity theft or fraudulent activities. Notify your financial institution immediately if there are any questions.
Oak Bank Protects You
In order to confront constantly evolving online threats, Oak Bank is committed to keeping up with and utilizing the latest technology to ensure your account security such as individualized passwords, timed log-off, firewalls, encryption and surveillance.