Mobile Banking- Banking on the Go
At home, at work and while you travel, your bank is within reach. Our mobile banking services make it easy to access and manage your bank accounts anywhere, at anytime. Perform convenient and secure transactions such as iBillPay, mobile check deposit, and person-to-person pay, all from your smartphone or tablet.
Try it out!
Try out this fun click-thru demo to see how easy mobile banking can be, and you won't be asked to enter any personal information. You can also click on the "Mobile Banking Video" to learn even more.
Mobile Deposit
Check. Snap. Deposit.
Oak Bank's mobile banking services also include a mobile deposit feature, saving you time and a trip to the bank. With mobile deposit, depositing your checks is as simple as Check. Snap. Deposit. Just endorse your check and take a photo of both sides. The money will be automatically deposited in your account. Oak Bank's Mobile Deposit is included with Oak Bank's Mobile Banking App.
Sometimes making a trip to the bank just to deposit a check can be a hassle. You may be across town or picking up the kids from school, or maybe you already have your feet up for the night. Whatever the case may be, we have a simple solution for you. It's called Mobile Deposit and it's as easy as "Check. Snap. Deposit." You can have the money added directly into your account in three easy steps:
1. Check: Endorse your check (including a line that says, "for mobile deposit only at Oak Bank" and your account number).
2. Snap: Place your check on a flat surface and snap a picture of both sides with your smartphone (make sure all lines on the check are visible and are not blurry).
3. Deposit: Submit the photo via your Oak Bank Mobile Banking app and the money will be directly deposited into your account automatically.
Helpful Tips:  To use Mobile Deposit, you should first enroll in iBank by clicking on the "First time login?" at the top of any page. Once you are enrolled in iBank, just download our Mobile Banking App.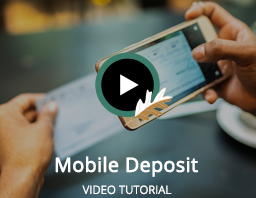 Custom Alerts
Custom alerts in our Oak Bank Mobile Banking App allow you to enjoy peace of mind wherever you go. You can monitor account balances and activity, get deposit and withdrawal notifications, control security alerts and much more! Stay on top of your money 24/7 and update your alerts today!
Visit our Custom Alerts page to learn more about setting up personalized alerts that make sense for you.
Manage "My Cards"
Access Card Management features and Spend Tracking Within Our Mobile Banking App!  Designed to optimize your experience, tap My Cards inside our mobile banking app to access these features:
Transaction notifications
Enriched transactions to clearly see where your purchases are made
Recurring payment visibility for subscriptions and cards on file with merchants
Controls and alerts for location, merchant type, and spending limit preferences
Tracking spend by month, category and more
Want to learn more or get help getting started? Contact us today!
If you have questions regarding our mobile banking services, contact an Oak Bank Mobile Banking Specialist for more information.
Read this Security PDF for information regarding the safety and reliability of Oak Bank's mobile banking!
*Enrollment is subject to credit approval.